2.1 series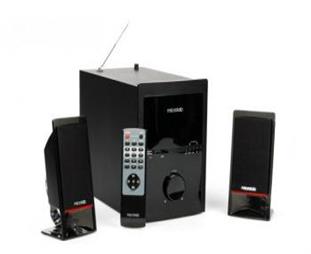 Microlab M700U
Product code :
Microlab M700U
Product code :
MICROLAB
Saleprice :
1,690,000 VNĐ
Status :
In stock
Views :
2,101
Quality 2.1 sound system
M700U is capable of provding powerful music for any room types. The qualified satellites are good at producing dynamic clean treble sound. The reflex-designed subwoofer is built with airbass technique that can effectively reducing nosie and distortion for improveing the depth of bass effect.
Powerful functions for desktop entertainment
M700U includes the FM radio, USB port and SD card reader for extending the range of uses. The FM radio can be stored up to 40 channels that is convenient for listening different radio programmes. The SD card reading panel also hold one mini LCD screen for revealing simple music information. The USB port can be connected with any type of U-flash disk for more media input.
Convenient operation experience
M700U is delicated to improve the operation experience. It includes the control panel on the front of subwoofer and one wireless controller for long-distance use. Also, the safety wire is set nearby the power on/off button, which provides the quick replacement for blown fuse problem.
Features:
· Powerful 2.1 subwoofer system for multimedia performances
· Ideal for digital movies, TV, CD/DVD and Mp3/Mp4 playbacks
· Front control and digital media interfaces
· Wireless remote control for easy convenient adjustment
· Satellites with crystal clear tweeter drivers
· Reflex tunnel design for efficient bass driver, deeper bass and depth
· Comes with multi-input interfaces for various playback modes such as USB dongle and SD card, 3.5mm and 2RCA jacks
· FM radio tuner with telescopic antenna
Items

Test items

specifications

Amplifier

Total power

46 Watt RMS

Power distribution

14 Watt x 2
+18 Watt RMS

Harmonic distortion

<0.3 % ( 1W 1KHz)

Frequence response

35 Hz - 20 KHz

Signal/Noise ratio

>75 dB

Seperation

>45 dB

Input sensitivity

400mV

FM radio

87.0 MHz to 108 MHz frequency range

Speakers

Tweeter type

2.5" x 2

Tweeter impedance

4 ohm

Subwoofer drive type

5"

Subwoofer impedance

6 ohm

Interfaces

Multimedia

USB type A slot

SD card interface

Input

3.5mm, RCA

output

RCA

Power input

AC 220 - 240V, 50Hz 200mA or 120 V, 60 Hz 400 mA

Controller

Remote control

Wireless remote control