2.1 series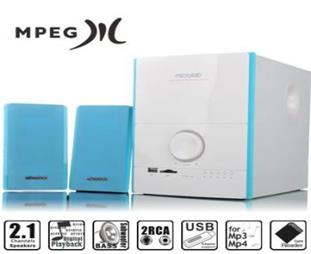 Microlab M500U
Product code :
Microlab M500U
Product code :
MICROLAB
Saleprice :
1,350,000 VNĐ
Status :
In stock
Views :
2,018
Sharp and smart design
M500U is the attractive and stylish 2.1 speaker system that can catch your attention among all the other 2.1 audio products. It has the simple but artistic streamline cabinet design. It also has multiple colors to choose for fitting your personal taste. All the colors looks equally stylish and fashionable.
Good sound quality
M500U has the most comfortable sound quality for desktop entertainment. The satellites is capable of delivery the dynamic and uncolored treble sound while the subwoofer has the powerful bass reflex function.
Convenient operation and connection methods
M500U provides the simplest way for users to control the system. You can easily adjust the sound through its front panel. It also comes wtih the front interface ports for easy connection and instant playbacks. The interfaces have the USB, SD card and RCA jacks for connecting diifferent media playing systems.
Features:
· Beautifully designed 2.1 subwoofer system with bass effects
· Good sound performances and full audio range
· Ideal for digital multimedia movies, TV, CD/DVD and Mp3/Mp4 playbacks
· Crystal clear satellites for dynamic audio movements with bass reflex function for efficient speaker design
· Comes with multi-input interfaces for various playback modes such as USB dongle and SD card, and 2RCA jacks
· Available in different colour option
Items

Test items

specifications

Amplifier

Total power

40 Watt RMS

Power distribution

12 Watt x 2
+16 Watt RMS

Harmonic distortion

<0.3 % ( 1W 1KHz)

Frequence response

35 Hz - 20 KHz

Signal/Noise ratio

>75 dB

Seperation

>45 dB

Input sensitivity

400mV

Speakers

Tweeter type

2.5"

Tweeter rate power

15 Watt 6 ohm

Bass drive type

5"

Bass drive rate power

20 Watt 4 ohm

Interfaces

Input

2RCA sockets

USB TYPE A slot

SD card reader

output

2RCA sockets

Power input

AC 220 - 240V, 50Hz 140mA, or 100V - 120 V 280 mA version