2.1 series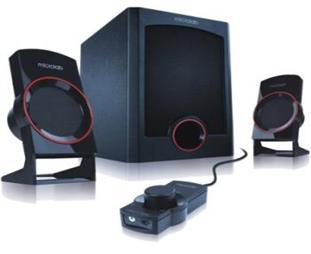 Microlab M111
Product code :
Microlab M111
Product code :
MICROLAB
Saleprice :
820,000 VNĐ
Status :
In stock
Views :
2,129
Unique finish design for good sound quality
M111 has its uniquely shape for optimum treble and deeper bass effects. The subwoofer applied the X-bass techniques for decent bass sound whiile the satellies are good for clear and detailed treble.
Ultra convenient control system
M111 comes with one wired remoter for easy and simple control experience.
Features:
· Definitive 2.1 subwoofer system for multimedia and computer use. Designed in black and fits into any room scenario
· Ideal for digital multimedia music and movies
· Powerful subwoofer with deep bass using X-Bass technology
· Quality satellites with clear tones and distortion free playback
· Wired remote control with 3.5mm stereo interfaces for your headphone and direct input from playback sources
Items

Test items

specifications

Amplifier

Total power

12 Watt RMS

Power distribution

3 Watt x 2
+6 Watt RMS

Harmonic distortion

<0.3 % ( 1W 1KHz)

Frequence response

35 Hz - 20 KHz

Signal/Noise ratio

>75 dB

Seperation

>45 dB

Input sesitivity

300 mV

Nominal impedance

4 ohm

Speakers

Tweeter type

2.5" x 2

Tweeter impedance

4 ohm

Bass drive type

4"

Bass drive impedance

6 ohm

Interfaces

Input

3.5mm stereo jack

output

2RCA sockets

Power input

AC 220 - 240V, 50Hz 100mA