2.1 series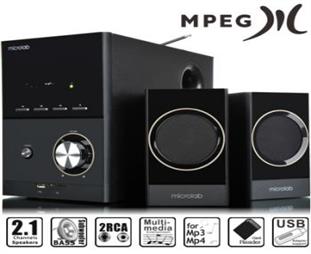 Microlab M223U
Product code :
Microlab M223U
Product code :
MICROLAB
Saleprice :
1,160,000 VNĐ
Status :
In stock
Views :
1,944
Beatiful out-looking design
M223U applies the modern desgin concept for its cabinets. All the satellites and subwoofer are maden by the hi-end wooden materials.
Good sound performance
M223U has the excellent audio qualtiy.The subwoofer is built in the bass reflex technology and the satellites are good for clean treble sound.
Built-in Useful functions
M223U is the perfect companion for expanding your desktop entertainment journey. It does not only integrate the music playing function, but also can read SD card and listening radio programmes. It also support USB flash disk reading.
Convenient operation system
M223U is easy for user to operate. The front panel on subwoofer cabinet has the playback and master volume control for basic adjustment. It is also very easy to connet with majority media players through the standard audio cable.
Features:
· Quality 2.1 subwoofer system with depth and full range audio performances
· Powerful subwoofer and crystal clear satellites
· Front panel with playback controls and volume level knob
· Bass reflex design for efficient subwoofer performances
· Made with quality sound handling materials for superb sound handling characteristics
· Analog FM radio with telescopic antenna
· USB type A and SD card slots for digital music playbacks
Items

Test items

specifications

Amplifier

Total power

40 Watt RMS

Power distribution

12 Watt x 2
+16 Watt RMS

Harmonic distortion

<0.3 % ( 1W 1KHz)

Frequence response

35 Hz - 20 KHz

Signal/Noise ratio

>75 dB

Seperation

>50 dB

Speakers

Tweeter type

2.5"

Tweeter impedance

4 ohm

Bass drive type

4"

Bass drive impedance

8 ohm

Interfaces

Input

2RCA sockets

output

2RCA sockets

Power input

AC 100V - 240V, 50/60Hz 350mA

Radio

Radio reciever

87.5MHz - 108 MHz